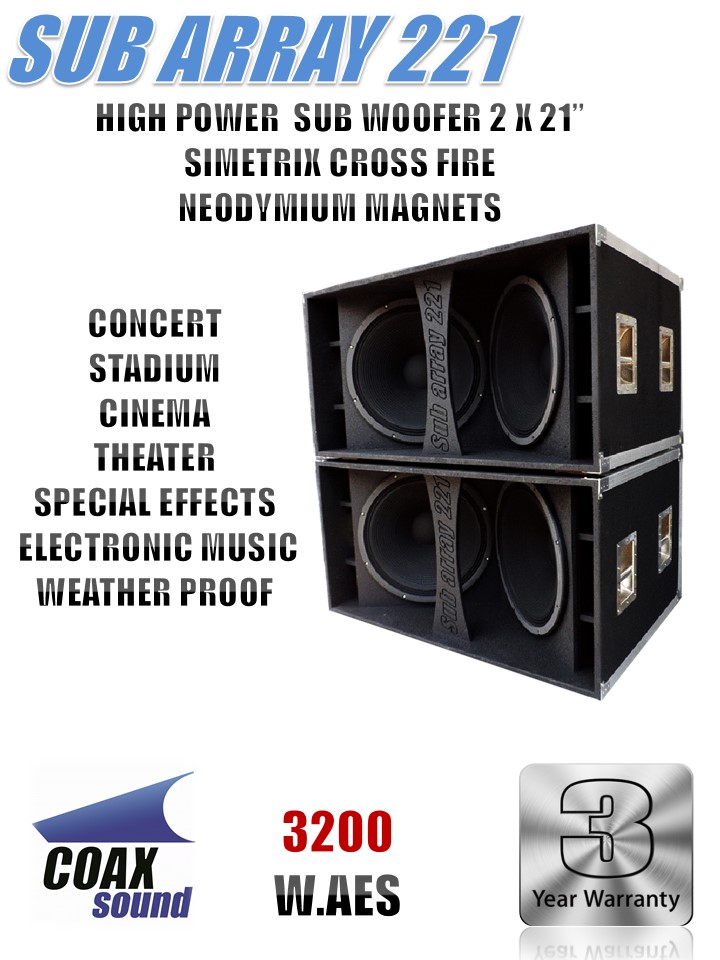 HIGH POWER SUB WOOFER DUAL 21″ SIMETRIX BASS REFLEX CROSS FIRE.
EQUIPADO CON 2 TRANSDUCTORES DE ALTO DESEMPEÑO DE 21″ EN CONFIGURACION FUEGO CRUZADO
CON DUCTOS DE ENTONACION OPUESTOS Y SIMETRICOS PARA LA RECUPERACION EFICIENTE Y EN FASE DE BAJAS FRECUENCIAS.
SIENDO ESTE CARDIOIDE EN UN RANGO AMPLIO DE FRECUENCIAS. PUEDE OPERAR EN CONFIGURACIONES-ARREGLOS HORIZONTALES O VERTICALES.
DISEÑADO EN MÉXICO DESDE EL AÑO 2013. APLICANDO LA MISMA TECNOLOGÍA SIMETRIX BASS REFLEX CROSS FIRE ORIGINAL DE COAX SOUND USADA DESDE HACE MAS DE 10 AÑOS EN EL LEGENDARIO SUB ARRAY 215 Y POSTERIORMENTE EN EL SUB ARRAY 218.
TIENE EL TAMAÑO Y PESO DE UN SUBWOOFER 2X18 CONVENCIONAL DE CUALQUIER OTRA MARCA COMERCIAL.
PERO CON MAYOR EFICIENCIA Y PRESIÓN ACÚSTICA EN BAJAS FRECUENCIAS. POR SU TAMAÑO PUEDE INSTALARSE DEBAJO DE CUALQUIER FORO O ESCENARIO.
CUMPLE CON LAS MAS ALTAS EXIGENCIAS DE LA MÚSICA ELECTRÓNICA, EFECTOS ESPECIALES SONOROS CINEMATOGRÁFICOS O CINEMA DIGITAL, PARA PROYECCIONES HD. DOLBY DIGITAL, PARQUES TEMÁTICOS, ESTADIOS, ARENAS, TEATROS, DISCOTECAS….
3200 W. AES. POWER HANDLING
NEODIMIUM MAGNETS VOICE COIL: 4″
IMPEDANCE: 4 OHMS
CONECTORS: 2 X NL4MPR SPEAKON NEUTRIK EN PARALELO.
SPL: 133 dB CONTINUOS. 145 dB PICO, 1MT. PINK NOISE.
F.R. 25 – 1000 HZ. +-6dB
THE MOST LIGHT OF THE WORLD!! WEIGHT: 91 KGS. (200 LBS) WITHOUT (PATINETA)
DIMENSIONS: 24.5″X 47.5″X 32.25″ PULGS. 62 X 121 X 82 CMS.
SALE ONLY FOR FIXED INSTALLATIONS
VENTA SOLO PARA INSTALACIONES FIJAS.