THE TURBO COAXIAL TRANSDUCER HAS BEEN DESIGNED AND IMPROVED IN MEXICO BY COAX SOUND
TECNOLOGÍA DE 2 VÍAS CONCÉNTRICAS. (ELEMENTO DE FUENTE PUNTUAL), COMPUESTO DE UN POTENTE SISTEMA DE TRANSDUCTORES INTEGRADOS POR UN ALTAVOZ TURBO COAXIAL DE 8″, 10″ O 12″ DE RANGOS MEDIOS MAS UN DRIVER DE COMPRESIÓN DE ALTAS FRECUENCIAS ACOPLADO. AMBOS LOGRANDO COHERENCIA DE FASE. pat pend.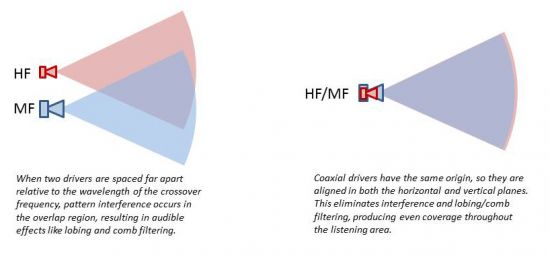 A coaxial speaker system is a system in which the individual driver units radiate the sound from the same point of axis. There are two main types. One is a compact design using two or three speaker drivers, The other is a two-way high-power design for professional audio, also known as single-source or dual-concentric loudspeakers. When it comes to using coaxial loudspeakers in professional audio applications, coaxial loudspeakers enable sound from two drivers to come from one source. This characteristic allows a wider field of listening to a synchronized summation of speaker drivers than loudspeaker enclosures containing physically separated drivers. Also, the pattern of response is symmetric around the axis of the loudspeaker.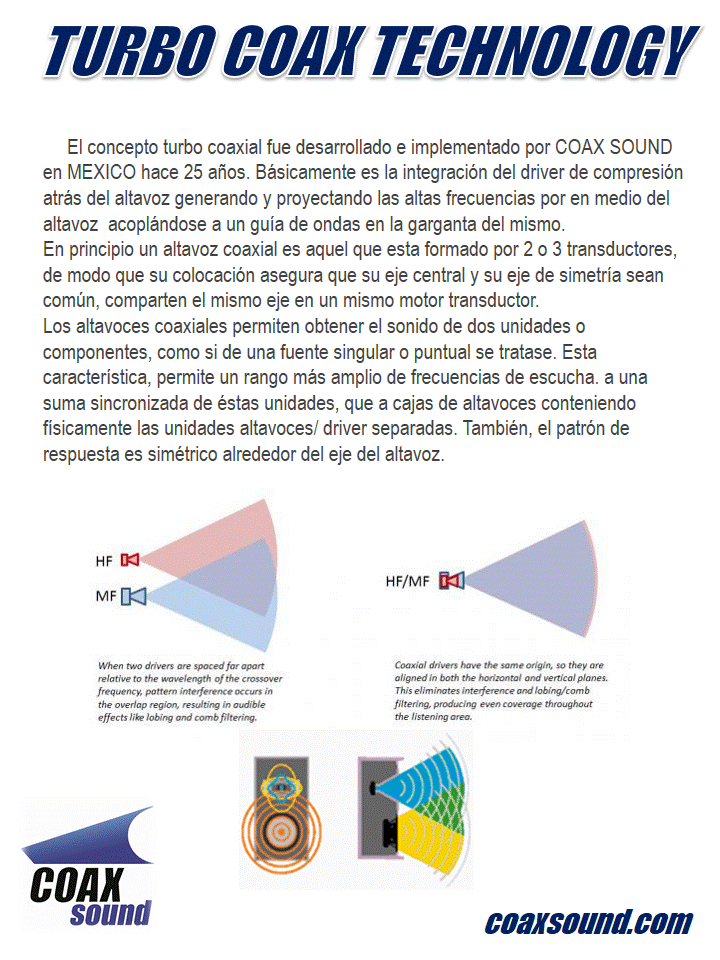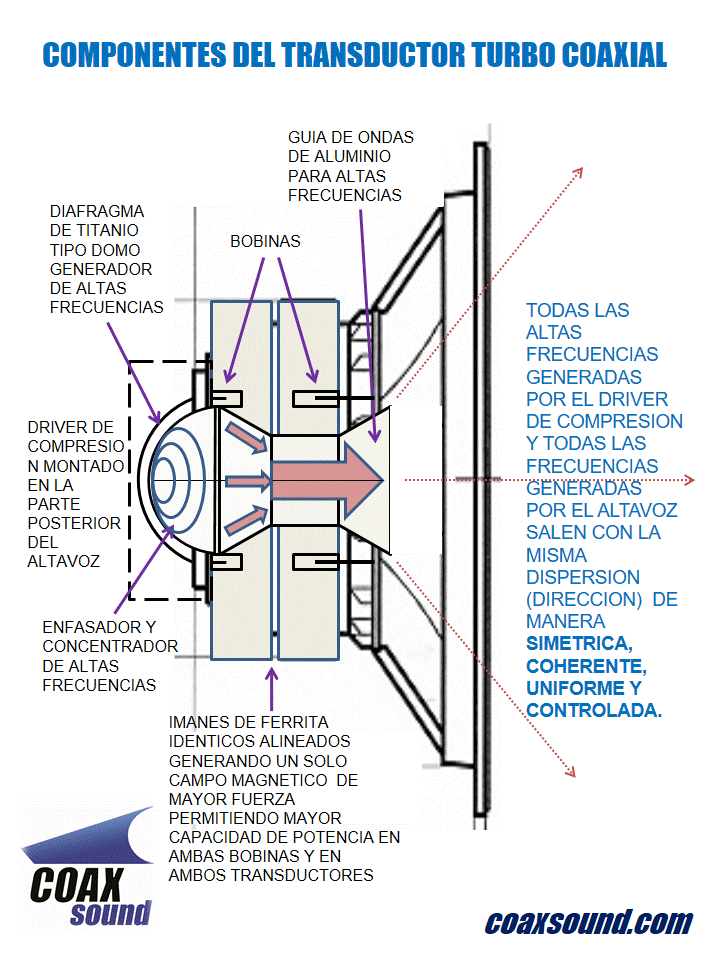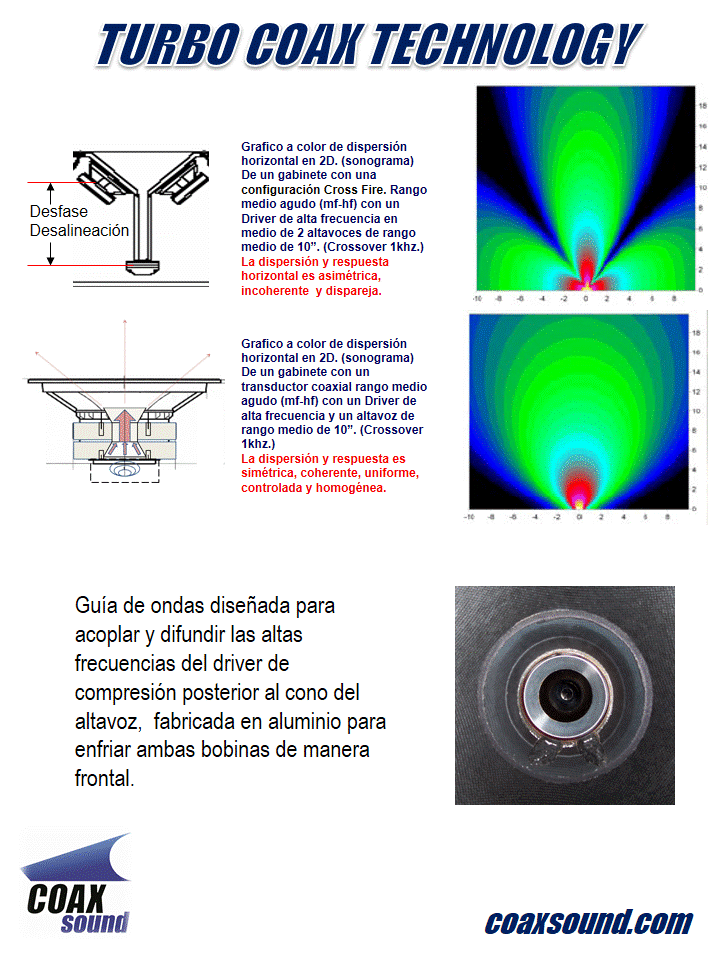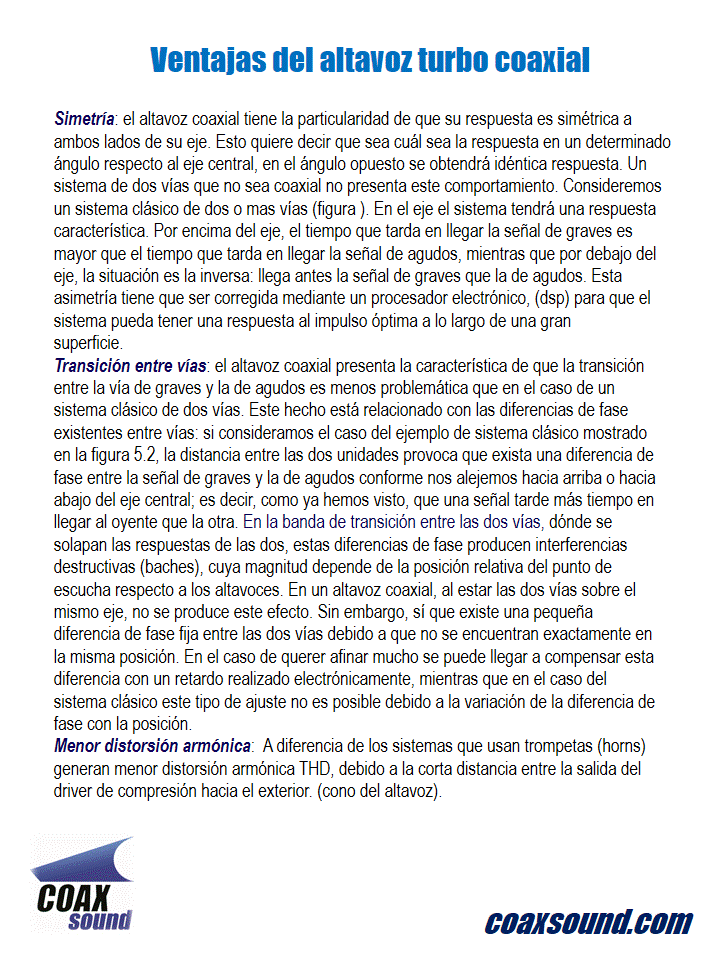 «ELADA»
EL

EMENTO DE

A

LINEACION Y

D

ISPERSION

A

CUSTICA
ES UN ELEMENTO ACÚSTICO DE DISPERSIÓN Y ALINEACIÓN DESARROLLADO POR COAX SOUND PARA DIRECCIONAR LAS ALTAS FRECUENCIAS DEL DRIVER DE COMPRESIÓN Y UN RANGO DE FRECUENCIAS DEL ALTAVOZ TURBO COAXIAL.
ESTA PLACA SE DISEÑA Y FABRICA EN ALUMINIO Y SE ENCUENTRA MONTADA AL FRENTE DEL TRANSDUCTOR TURBO COAXIAL DE LAS BOCINAS COAX SOUND. PARA PROTEGER AL ALTAVOZ Y DISPERSAR EL SONIDO.
CON SOLO ROTAR LA «ELADA» SE CAMBIA LA DISPERSIÓN DE HORIZONTAL A VERTICAL Y VICEVERSA. Y CON SOLO CAMBIARLA SE PUEDE CONTROLAR LA DISPERSIÓN Y EL TIRO, SIN NECESIDAD DE CAMBIAR EL MODELO DE CAJA, ELEMENTO O BOCINA, O ROTAR UN DIFUSOR O TROMPETA COMO EN OTROS DISEÑOS Y OTRAS MARCAS.
PATENTE PENDIENTE.